Sleep Well at Night with Tribute
Tribute custom lymphedema garments are a fundamental part of a successful lymphedema management program. Tribute provides unparalleled custom support while you sleep by maintaining gains made in therapy, decreasing treatment time, increasing compliance, treating indurated tissue, allowing for normal sleeping posture, stimulating initial lymphatics, protecting limbs, supporting lax tissue, and more! You can rest assured you're in good hands with Tribute.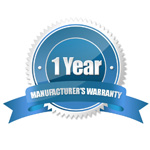 We've Got You Covered
When you order a Tribute, you're getting a lot more than just a custom nightwear garment. You'll sleep soundly knowing that every registered Tribute is backed by our industry leading one year warranty and our exclusive Sure-Fit Guarantee (within two weeks of shipment, if your Tribute doesn't fit like it's supposed to, we'll alter or remake it free of charge)! We know that girth reductions can be fairly typical when using Tribute too, that's why registered Tributes also qualify for one free girth reduction within the one year warranty period (unfortunately we're not able to enlarge a garment or alter garments older than one year). Be sure to register your Tribute if you haven't already!
Color Your Night with Tribute
Tribute owners can now express themselves in vivid colors: Black, Pink, Teal, Maroon, or Royal Blue! Please keep in mind that all monitors display colors differently, so the colors to the left are only approximations. We'd be happy to send you sample fabric swatches if you'd like, just email us at info@solarismed.com with the shipping information!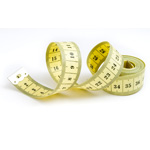 Unique People, Unique Design



Every one of our Tribute custom nighttime lymphedema garments begins with the core principles of fluid dynamics and lymphatic stimulation. Using our professional experience and dedication, we ensure that every client is provided with the best fitting, most therapeutic product possible. Our Tribute directional flow garments are designed to meet the unique needs of the individual and custom-made to the medical professional's specifications to provide a complete nighttime solution.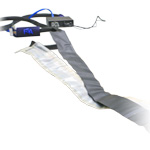 It's in the Details
We're the only lymphedema nightware manufacturer that we know of to commission and utilize sophisticated pressure mapping technology to develop bi-directional flow gradient compression to help maximize therapeutic outcomes. But that's not the only aspect of Tribute garments that have been thoroughly developed; we've also spent countless hours and conducted numerous tests on virtually every detail, from our unique foam particle blend, to our proprietary fabric that supports tissue health by providing moisture and thermal management to keep every Tribute owner cool, dry, and comfortable!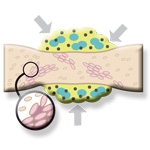 How Tribute Works
The custom designed Tribute's foam channels apply directional or bidirectional compression to the tissues while unique foam particles nestle into tissue to create localized tissue stretch and pressure differential. This tissue stretch opens the initial lymphatic gaps to encourage re-absorbtion of interstitial fluids and particles. This means that Tribute helps move fluid where it needs to go to prevent swelling throughout the night.
Just Your Style
Since each Tribute is custom designed to fit your unique needs, there are thousands of style possibilities! For simplicity though, we've divided our Tribute line into four style types: Upper Extremity (Fingertips to Axilla shown far left), Lower Extremity (Toes to Groin shown near left), Trunk and Torso, and Head and Neck. So no matter where you may have swelling, there's a Tribute for you.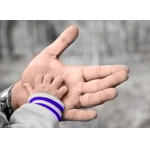 Tiny Tributes
We know that lymphedema isn't limited to adults, so we have developed a special pricing policy exclusively for clients under 14 years of age. A customer may be eligible to receive one free or discounted garment per year based on the patient's age at the time of purchase. For full details about our Tiny Tribute Policy, please call us at (855) 892-4140 or email us at info@solarismed.com .